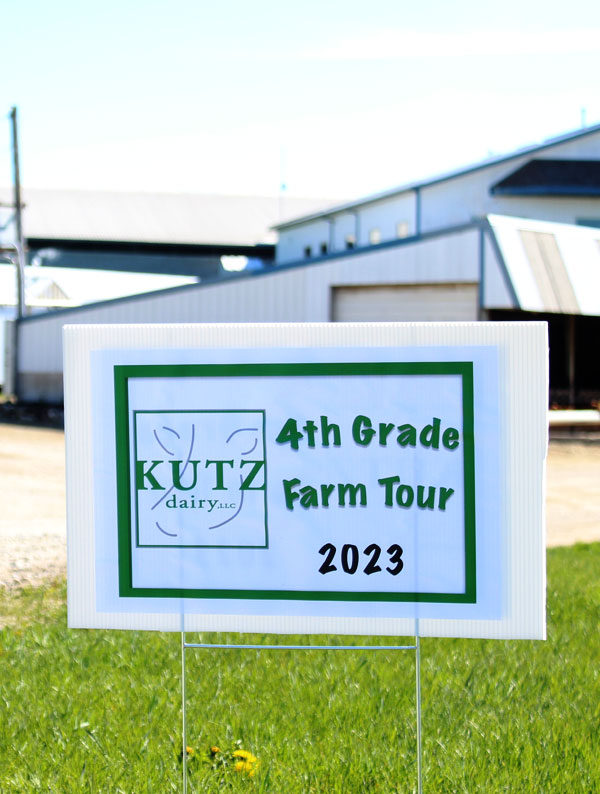 2024 Farm Tour Hosts and Details 
Tour Hosts:  Kutz Dairy, Jefferson. Ron and Pam started Kutz Dairy in 1973 with 10 Holstein cows. Over the years they have gradually increased their milking herd and by 1994 they we're milking 250 Holstein cows. Today Kutz Dairy LLC milks 1500 Jersey cows and raise 1600 heifers at three different locations. They grow crops on 1,400 acres to feed to the cows and they focus on producing high quality milk. The family farm is owned and operated by Ron and Pam, along with their three sons Aaron, Allan and Andrew. They have a stunning progressive dairy we were pleased to showcase. 
Tour Details: The next Fourth Grade Farm Tour is held on May 1st, 2024 at Kutz Dairy in Jefferson. Approximately 700 fourth grade students attend from schools across Jefferson County. In addition, about 140 teachers and parents make the trip. On average 22 to 25 public and private schools. Eleven stations are staffed by agricultural professionals and Jefferson FFA students cover these topics: dairy cows, crops, calves, milking parlor, sheep, beef, hogs, veterinary, soil conservation, land preservation and agriculture careers. The day starts at 8:30 a.m. and ends by 3:00 p.m. The free farm tour includes a free sack lunch and a packet of information on agriculture that goes home with each of the students, teachers and chaperones. The Fourth Grade Farm Tour was founded by Walt Coussens, Bruce Gibson and LaVern Georgson.
Tour sponsored by:  Jefferson County Agri-Business Club, Jefferson County Farm Bureau and the Jefferson FFA Chapter.